Indian School Muscat held its Annual Graduation Ceremony on Saturday, 17th February 2018 in the School's Multipurpose Hall to mark the end of one phase and the beginning of another for the outgoing batch of grade XII students. It was a moment of pride and honour not only for the students, but also for the parents, teachers and well wishers. The Chief Guest for the occasion was His Excellency, Shri Indra Mani Pandey, Ambassador of India to the Sultanate of Oman. Dr Amer Al Rawas, Chairman, Themar Group, graced the occasion as the Guest of Honour.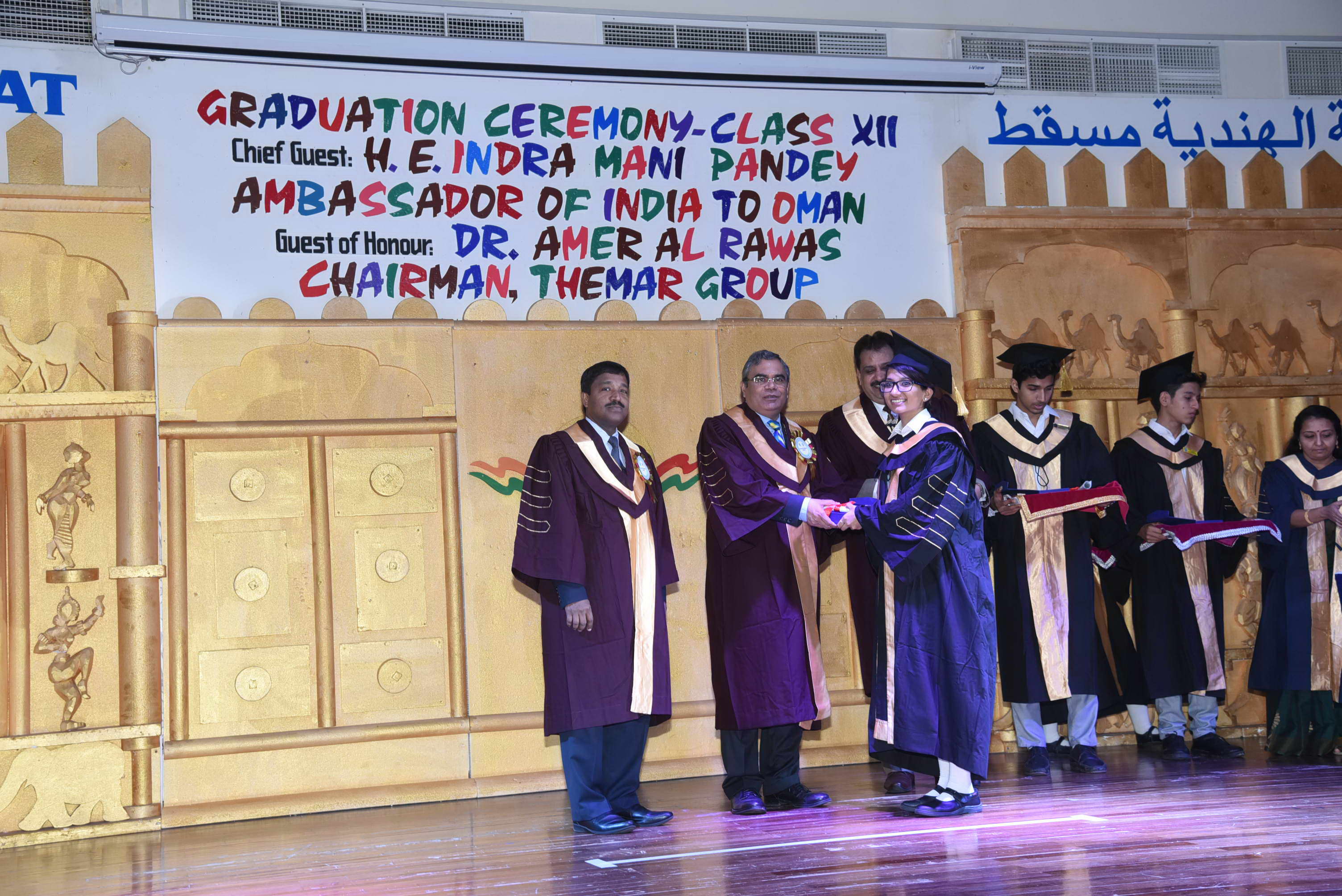 Mr. N. Omanakuttan, President, School Management Committee (SMC), Members of the Board of Directors of Indian Schools in the Sultanate of Oman, members of the SMC and other dignitaries were also present to witness the grand event. Principal, Dr Rajeev Kumar Chauhan, Senior Vice-Principal Admin, Advisor to the Principal, Vice-Principals, Assistant Vice-Principals, Heads of Departments, teachers and parents joined in the proceedings. Class XII students clad in their ceremonial graduation gowns walked down the aisle with pride and happiness. The function commenced with the traditional lighting of the lamp followed by a solemn prayer song by the school choir. The school Head Boy, P Sai Saran accorded a cordial welcome to the august gathering. He urged the students to cherish the momentous day and wished them the very best. A choreography which was a subtle blend of classical, semi-classical, and contemporary dance by the school students were a perfect echo of the celebration.
The Chief Guest, H.E. Shri Indra Mani Pandey blessed and felicitated the outgoing students with mementos. Students also had the privilege of receiving the mementoes from the esteemed Guest of Honour and honourable members of the SMC.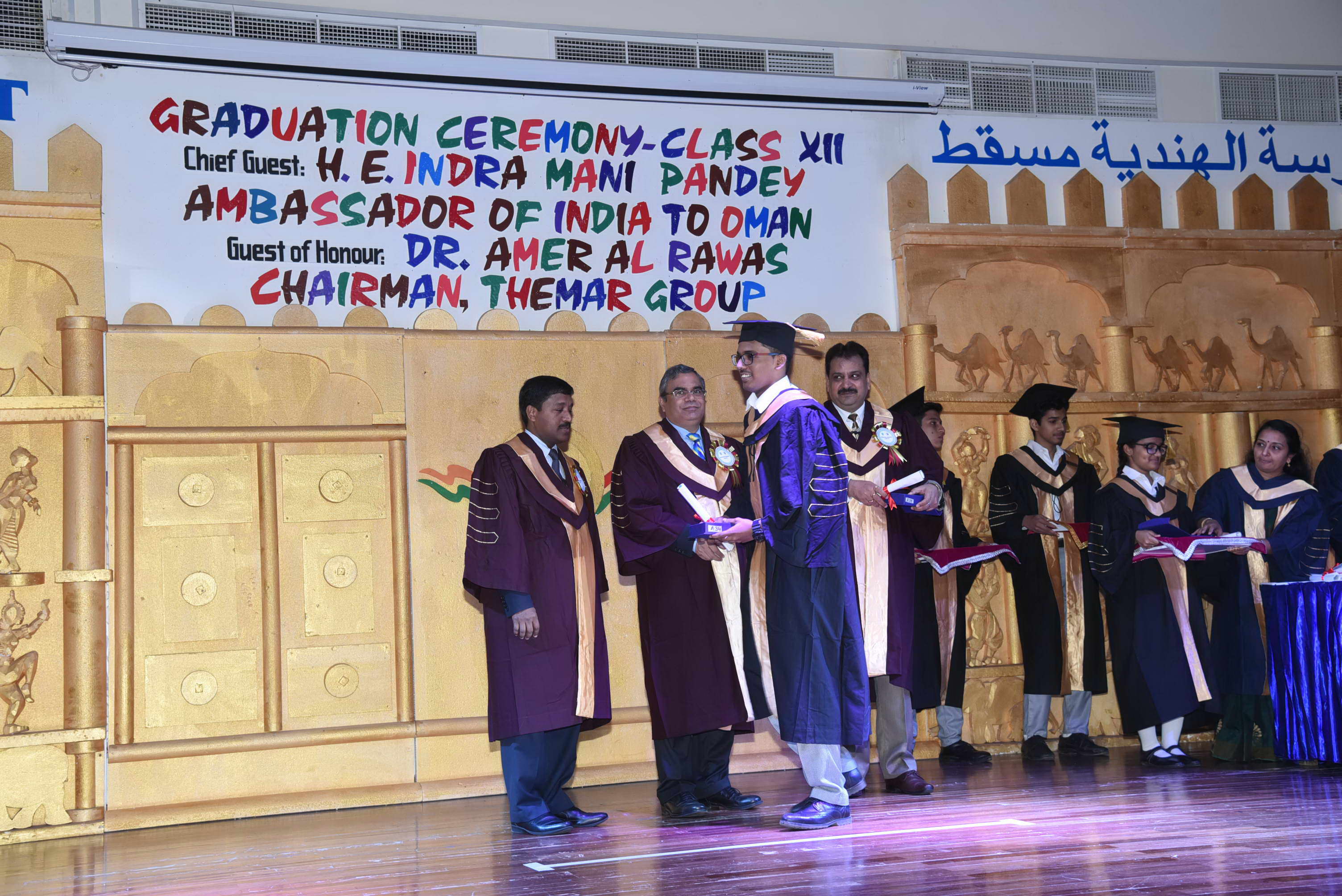 The Chief Guest, H.E. Shri Indra Mani Pandey, while addressing the august gathering wished the students success and prosperity in all their academic and non-academic pursuits. He advised them to be open to new thoughts & ideas and explore a new way of looking at life. He urged them to define their personal goals and to be inspired by the goals of the society. The Guest of Honour Dr. Amer Al Rawas encouraged the young aspirants to state the purpose in their lives. He advised them to spend the next few months searching for their own purpose. The students were immensely inspired when he said, "Don't think of the jobs you will get, but think of the jobs you will create." He wished them well in all their endeavours.




TERRARIUM PROJECT

On this significant day, Indian School Muscat launched the Terrarium project, its second new initiative from the Biology department, the first being Hydroponics. The Chief Guest, His Excellency, Shri Indra Mani Pandey, inaugurated the Terrarium project. It includes a year-long curriculum for setting-up and maintaining a terrarium for students to use for experimentation and learning.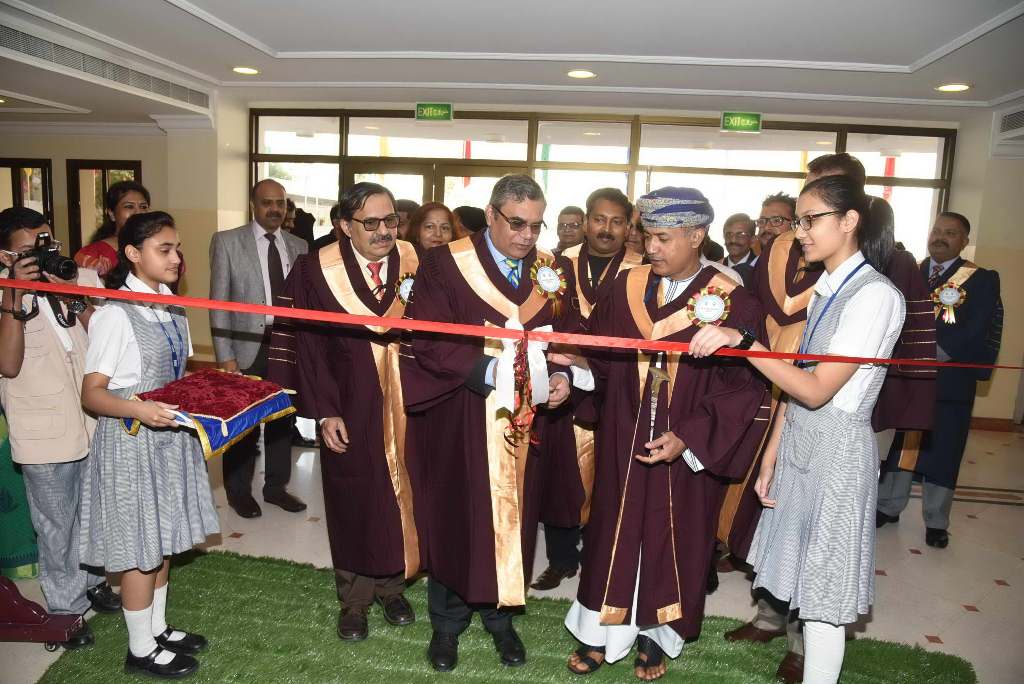 The grand ceremony came to a close with the Head Girl Shravani Garmella proposing the vote of thanks.